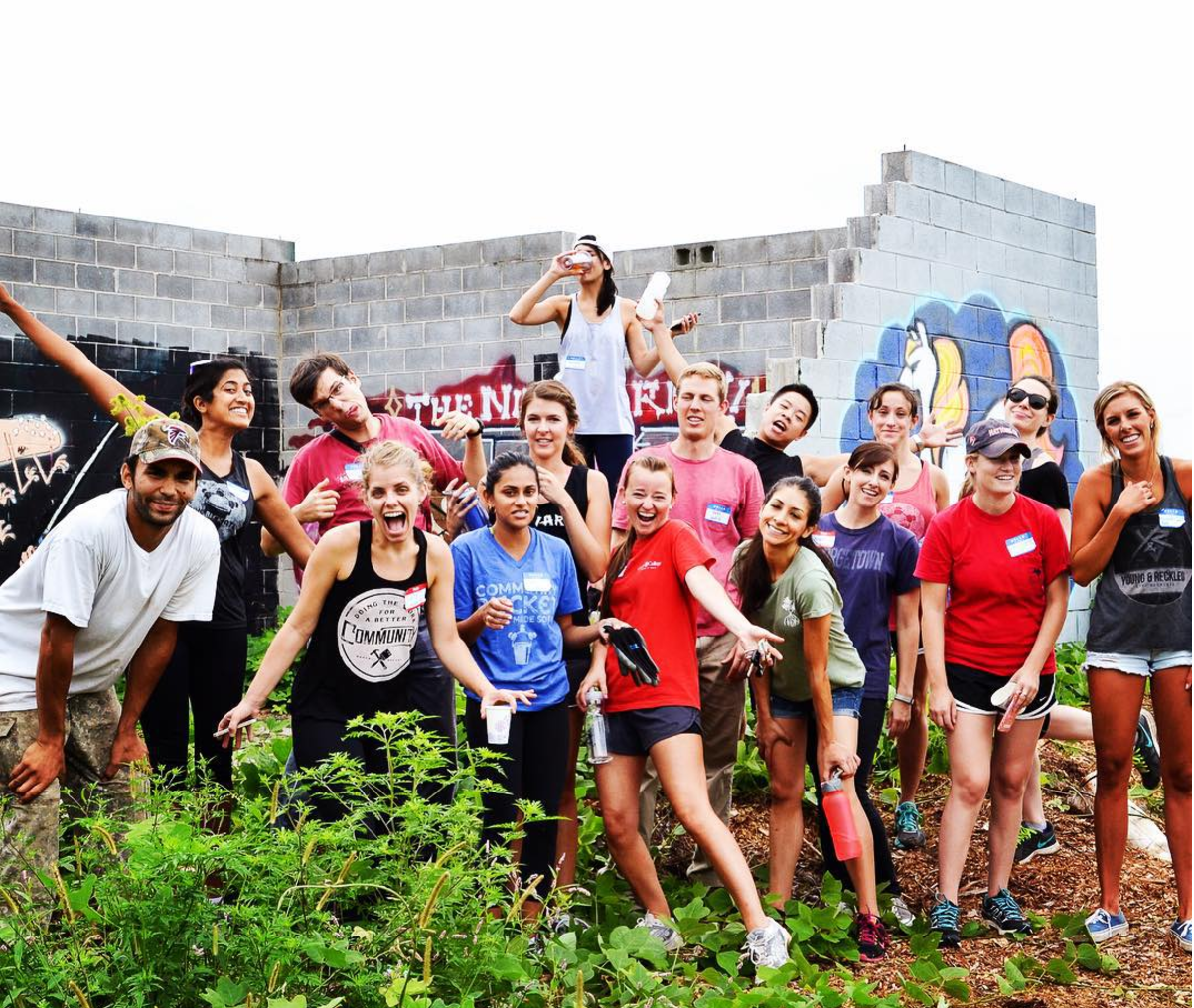 Over the last five years, Community Bucket has had plenty of reasons to smile from ear to ear. Racking up over 12k volunteer hours, leveraging nearly 3k volunteers, and giving back to Atlanta through 35 community partners, this "service made social" organization thrives.
In recognition of their upcoming anniversary (which you should totally be at), we caught up with Bucket's three fearless leaders, Jesse Grossman, Jacey Lucus, and Sonia Sequeira, to find out the best and worst moments in celebration of their upcoming birthday bash.
Love Your City is a volunteering event of epic proportion for Community Bucket and the first time KIND (yes, as in that delicious snack bar) became a partner. From sweet snacks to silly snapshots, there's never a dull moment with the Bucket crew.
Who knew massaging root balls was a thing? Glad we aren't the only ones lost on this one. Thanks to Trees Atlanta, the Bucket team learned the art of this agricultural trick and the "city amongst the trees" was all the better for it.
From chickens to goats, there are always plenty of opportunities to give animals love. It's an internal battle – and a little ironic – when you go from feeding goats at Decimal Place to eating them for lunch shortly after. Yikes, y'all!
Community Bucket always goes for the labor of love approach. Their steamiest memory was working on the BeltLine one May afternoon "nearly to the point of heat exhaustion while lugging bins of mulch uphill."
WHAT'S COOLER THAN BEING COOL? ICE COLD!…MORNINGS 
We're lucky that Atlanta has nice weather most of the year but each hot summer is paired with some frigid cold mornings when winter is here. Good thing you can always warm up with some whiskey or stouts after freezing your buns off.
Nothing says mud bath like working ankle deep in the dirt while planting native grasses along the BeltLine. It's amazing what people pay for, especially when you can get it for free at Bucket.
BLACKBERRY FIELDS FOREVER
Georgia is known for its wild bounty (just ask Concrete Jungle) and pickin' sweet somethings is a priority for Bucket. Sometimes it gets a little weird… like the time at Arabia Mountain when folks created cardboard suits of armor to protect themselves from prickly blackberry bushes.
 HANGING FROM THE TREETOPS
Work hard, play hard, right? One of the gang's favorite moments was when "20+ volunteers did epic tree climbing after an intense volunteer project at Panola Mountain." We're down (or should we say up?) for that!
Jenga has become a cherished ritual at Community Bucket but their all-time favorite tumble was when they first unveiled their "meticulously handmade" set. It's been one of Bucket's favorite games to unwind with ever since.
IF AT FIRST YOU DON'T SUCCEED, DRINK SWEET TEA VODKA LEMONADE & TRY AGAIN
All successes have failures along the way, "like the time during our first holiday good deed scavenger hunt that fewer than 10 people participated in!" Whoops! Failing is bound to happen but it's all about brushing yourself off, laughing a little, and getting back to work. We can't wait to be part of all the ups and downs with Community Bucket for many years to come!
Other honorable mentions include, ATL Tech Gives Back, giant orange koozies, getting sung happy birthday to at a Braves game, and demolishing the walls at the old Toolbank.
---
All photos are property of Community Bucket.