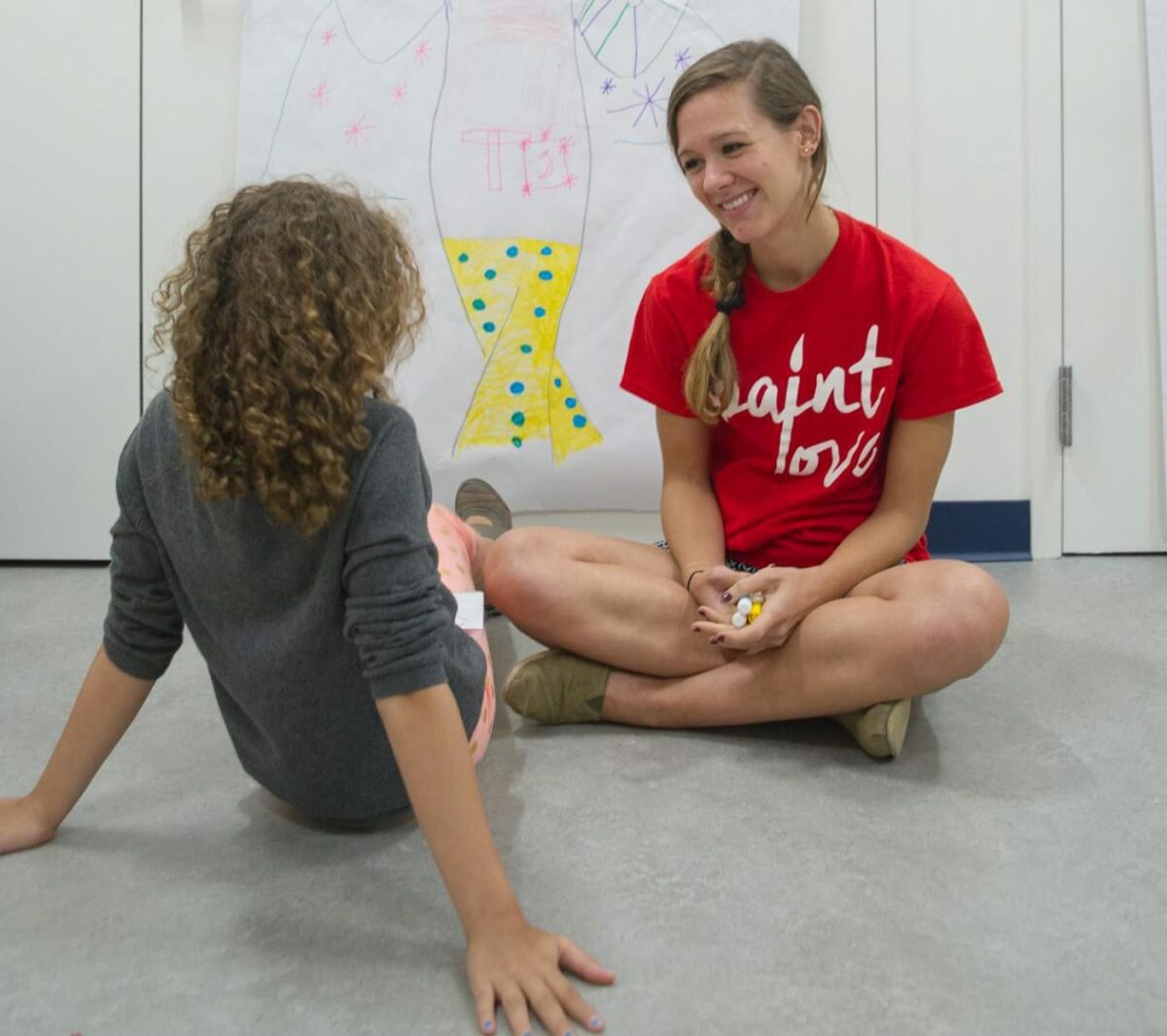 Paint Love has grown from a dance class with at-risk kids at the University of Miami and pivoted into a network of creatives working with 24 Atlanta-based nonprofits. A small stroke of genius allowed Paint Love Founder, Julie McKevitt, to see the need for local artists to partner with nonprofits serving youth who benefit from art therapy programs. As a result, Paint Love has grown from 111 kids served to a not-so-modest 2,000 in just over two years.
We sat down with Julie to hear the evolution of her nonprofit, how art helps heal kids and the power of painting love.
What's your background and the evolution of Paint Love?
In college, I studied marketing and dance and always liked the idea of working in the nonprofit sector. The idea for using art came out while teaching dance class with a college professor working with at-risk youth. To see the therapeutic implications of the arts through dance and rhythm and how it can be used as a tool not only for healing but for loving others, was so powerful. From there the seed was planted.
I always thought it would be focused on performing arts coming from a dance background but my grandmother was a painter and I've always painted for fun. Fast forward a few years. I decided to pursue art full-time but wanted to do something to give back to kids in some capacity.
I was invited to teach an art class at Wellspring Living. The girls loved it. I was volunteering with two other artists at the time and the whole idea for Paint Love clicked. Wellspring didn't have the resources to keep bringing artists back or find new artists or supply materials, so I kept volunteering with them. After continuing to bring my own supplies I got to the point where I thought, 'I can't keep doing this without using up all my resources.' It dawned on me that there were probably other artists who would love to get involved but either couldn't use their own supplies or weren't sure where to find organizations that needed help. It became much bigger than me and my art, so I became the middleman. I began recruiting my friends and people started donating canvases and supplies. It became a 501(c)3 and I decided to pursue it full-time to see where it would end up.
What's a day in the life at Paint Love? How has your mission grown?
A day at Paint Love is spent connecting artists and nonprofits for positive impact on youth. Last year, 45 professional artists worked with 24 organizations, at 62 events reaching about 2,000 kids. In 2014, we reached 111 kids and 958 in 2015, so we've grown very quickly since our beginning.
In April, we are going to take applications from Title I schools and are working to plug them in with artists for the rest of 2017 and into 2018. Then this September, we are going to take applications from nonprofits and work them into a plan for the 2018 calendar. We are recruiting artists, talking with organizations, and planning smaller events right now. Our goal is to strategically reach more people in the community.
What makes Paint Love unique?
We walk our artists through the process of becoming a volunteer for organizations like Wellspring. For all 24 of our organizations, we know what approvals and background checks they need so volunteers are ready for nonprofits when they walk in the door. It works out really well that we are not only serving kids but serving the nonprofits too.
I don't know how I got so lucky with the artists that volunteer and are involved with what we do. That's why we've made it so long because we've had such high-quality, passionate artists who like what we are doing and continue to come back and serve.
Can you tell us about a breakthrough moment when you felt like a child really connected with art and embodied what you are trying to accomplish at Paint Love?
Since we work with youth, particularly those who face poverty or trauma, sometimes it's as small as a conversation. I remember working with a girl who was painting and talking me through her piece and how it reminded her of her mom. She shared with me that she had lost her mom and I told her I had lost my mom too. We talked about that and really bonded over that moment.
Art is therapeutic in and of itself. Having that conversation, opening yourself up, and building confidence in someone about a moment over art is really profound. Art is the opportunity for freedom and creative expression and there are no rules attached. We try to bring excellent artists in the community that allow us to do really amazing art and help guide and love youth through that process.

How can the community help Paint Love?
At the very smallest level, someone sharing Paint Love on social media is huge for us. We also need volunteers, even if you aren't an artist – who we always need too! If you have a specific skill we can very likely find a place for you to help.
---
Interested in helping Paint Love? Click here to learn about more ways to help and show them some love by following their journey on Twitter, Facebook, Pinterest, and Instagram.
All photos are property of Paint Love. Headline photo: Amber Wilburn.