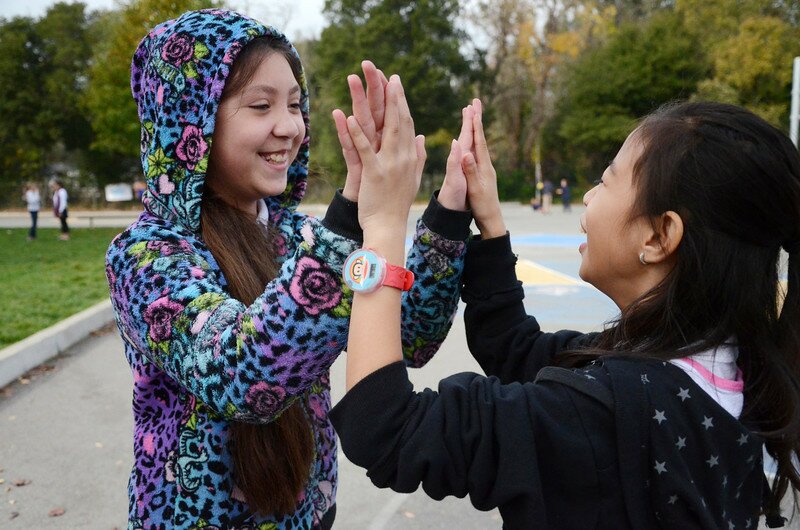 RECESS! As kids, that one little word was music to our ears, especially considering it was our favorite class (and we're pretty sure we're not alone on this one). There's nothing quite like the open air and endless fun at our feet. Sure, there's the playground but our cherished pastime as a ten-year-old was kickball.
Thanks to Playworks Georgia, this beloved game (amongst others) is making the rounds at Metro Atlanta Schools and doing more than giving kids some much-needed adrenaline relief. There's some serious power to play and its impact on everything from a decrease in behavioral issues to dropout rates. We recently kicked it with Abigail Russell, the development manager at Playworks Georgia, to hear how they got their start in the Peach State, increasing recess in schools, and how we can throw on some old Umbros and run onto the field.
Tell us a little bit about what Playworks does?
At our core, Playworks Georgia leverages play as a tool to promote health behaviors, increase social and emotional learning, and improve the school climate. Kids learn best when they feel safe and supported and we've found that we can accomplish that through recess activities. What's great about Playworks is that the schools can support what the kids have learned outside by implementing our primary concepts in the classroom.

Playworks is part of a national organization but it just launched in GA three years ago. Can you tell us about why and how you got started here?
Playworks Georgia's 2014 launch was made possible by the Atlanta Falcons Youth Foundation. We started in three schools our first year, progressing to ten this year and next we will double in size. Georgia has one of the top ten highest K-12 poverty rates in the nation. Children living in unstable and overly stressful environments lead to increased risks for poor academic readiness, executive function, and behavioral issues that culminate in higher dropout rates, crime convictions, and teen pregnancies.
Repairing Georgia's education system remains a top priority with special attention being paid to underperforming Metro Atlanta schools. There is much debate about a school's responsibility to teach the "whole child" versus a more rigid philosophy focusing on academics only. As a result, how schools and districts balance academic and testing demands with the need to focus on the whole child varies greatly and remains a hot topic.
Studies have demonstrated that children who participate in organizational leadership roles show higher levels of self-efficacy, self-advocacy, and self-determination, all indicators of strong social-emotional skills and future success. Additionally, students exposed to leadership training and opportunities are more likely to become engaged citizens, equipped with the skills necessary for success in the 21st century.
Over the last several years recess has been cut. Everyone loves a good game of kickball but can you talk through why play is important.
For Playworks, social and emotional learning, team building, and conflict resolution are the result of physical activity through play. When the kids are out at recess, they are creating a place where there is positive language, camaraderie, and teamwork. You walk out onto the field and you see colorful cones, balls, and hula hoops everywhere. The kids line up, cheer and chant then head off to the games. Through recess and the partnerships with the schools, Playworks embodies our four core values: respect, inclusion, healthy community and healthy play. We are incredibly intentional in how we engage with the school's community all the while creating evidence-based programming through partnerships with UGA, Stanford, and the Robert Wood Johnson Foundation.
Kids don't have all the fun, you also have a corporate kickball league coming up. Tell us about that event.
One of the first questions we ask individuals is what do they remember about recess and nine times out of ten the answer is kickball, so why not have a kickball tournament with adults so that kids can continue to experience the joy of kickball in schools during recess? The tournament this year will become an annual fundraiser to continue the work that Playworks has started in schools. Teams will compete for the inaugural championship trophy and the opportunity to bring healthy, meaningful play to more than 5,500 children in low-income elementary schools across Atlanta.
This year we have teams from, Invest Atlanta, Smugs Fitness, Whole Foods, Kaiser Permanente, ESPN and the SEC Network, plus some of our teachers from partner schools!
How can the community get involved?
Help us continue supporting communities and kids. We'd love for you to come out and play kickball with us next year! We have several ways to engage with companies whether it's a team building day in the office or coming out to the school to play.
Get kickin' by checking out more about Playworks here and following them on Facebook and Instagram.