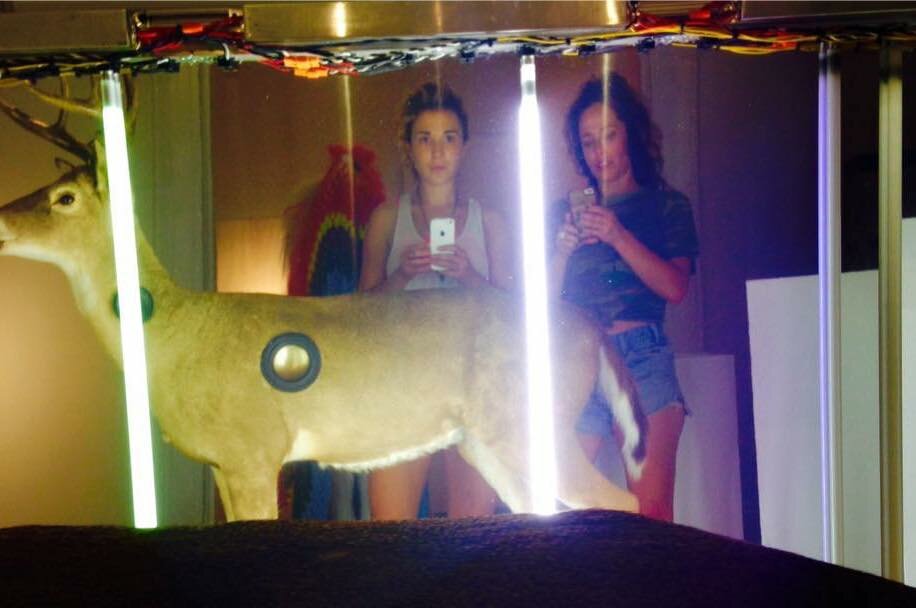 Shared cigarettes typically aren't life-altering.
But this one created a rare spark.
That led to more cigarettes.
A shared habit of resting feet on dashboards while riding in cars (and sometimes driving).
And a kindred-spirit existence, resulting in countless finished sentences, brilliant ideas and insights, and even mixed-up memories.
"We were at a bar," remembered. "She says the Local, I say the Highlander."
"No, I say the Highlander," corrects, breaking them both into laughter. "We do that all the time. It's like which one is your truth, and which one is mine. I remember us being at the Highlander, again smoking cigarettes, and wondering what are we going to do with our lives."
Ten years after that first cigarette at Georgia State University, Beth was working in the nonprofit sector, and Courtney was working in Atlanta's arts community.
As artists do, they wanted to create.
They didn't know how to be working artists, but realized others didn't either.
So, they set out to address this void through creation.
After a handful of naming false starts, they settled on Dashboard – Dash for short – as an ode to their shared "bad" habit.
They would offer professional development for artists.
They would host exhibitions in nontraditional spaces.
They would travel to find undiscovered artists.
To Beth and Courtney, this approach would create the opportunities to experience a different type of art than was readily available before 2010.
The year Dashboard emerged, a new brand of art was simmering in Atlanta.
Burnaway. Flux Projects. Living Walls.
In post-recession Atlanta, there was opportunity.
Courtney and Beth recognized this fact, but also realized working outside the current arts paradigm was essential.
One day, they noticed they were the youngest people sitting in a meeting of arts organizations and funders, where Courtney remembered the conversation revolving around "powerful people complaining about money."
"We refused to get on board with this hopelessness," Courtney said.
So, they stood up, grabbed hands and walked out.
And never looked back.
At a time when physical galleries were closing, Dash was opening three exhibitions in vacant spaces around the city.
"They made art fun and approachable for so many people in the city who previously had not paid much attention to the arts before," said Susannah Darrow, co-founder of Burnaway and current executive director of ArtsATL.
Katherine Dirga, Dash's founding board chair, thinks what Courtney and Beth have achieved as a duo in less than ten years is "pretty magnificent."
"Dash kicked off as a good old-fashioned DIY art happening, kind of rapidly aged through a period as a community development catalyst, now is a national curatorial team doing ambitious projects all over the country, and hasn't even been around a decade," said Dirga, the current Arts Administrator for MARTA. "They have pushed the limits of what people thought that an art show could be and expanded peoples' idea of who an art show is for. They haven't been afraid to give artists room to make and do exactly what they want, and it's paid off for all of us in rich experiences."
For their most recent Atlanta show, Beth and Courtney continued to give Atlanta new experiences, while also working in a new space, bringing Unloaded, a national traveling exhibition on gun violence, to Castleberry Hill to coincide with the National Rifle Association's convention at the Georgia World Congress Center.
"When I first conceived of the show, I had hoped to have it tour to every city in which the NRA held its annual meetings," said Unloaded's curator, Susanne Slavick, Andrew W. Mellon Professor of Art at Carnegie Mellon University. "All the forces were aligned with Dashboard to make this dream come true in Atlanta."
But, of course, Dash would add their own twist – a companion gallery filled with topical gun-related work by Atlanta artists.
"They are both really beautiful and complimentary of each other," said Beth during a phone interview from New York City where she's finishing up a 3-month residency at Ted, a nonprofit devoted to spreading ideas, usually in the form of short (18-minute) talks.
Slavick said most venues presenting Unloaded has created supplemental programming related to gun violence, but Dash's approach was different.
"Dashboard was the first to take on curating a companion show and brought in a strong array of artists that multiplied perspectives on the topic," she said.
Tomorrow, Unloaded has its final day at the Marcia Wood Gallery, where it's been open since April 28. Then, it's off to the American southwest to take a UFO on a road trip, showcasing Michael Oliveri's crossover of science at art through West Texas, Roswell and Truth or Consequences, N.M., Phoenix, Ariz., and Joshua Tree National Park in southern California.
"The UFO is an Ulterior Farming Operation that was initially intended to grow tomatoes from NASA upside down in a permaculture environment," said Oliveri, Athens, Ga.-based owner of Michael Oliveri Studios. "Fun is always a huge factor when working with (Courtney and Beth). Fortunately, it is a good match for me also. It is very difficult to find anyone that will pour gasoline on an idea that's on fire. It is their passion to find the limits in the artists they work with."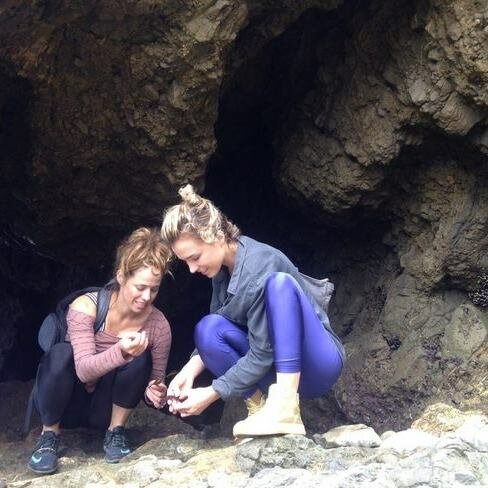 This next Dash journey – recent projects outside of Atlanta have included work in Detroit, New Orleans and Orlando – randomly links back to Courtney and Beth's Georgia State years.
In college, they "shared" an Astronomy class, one going on Tuesday, the other on Thursday, each signing each other in on their weekly class day.
"That stuck with us, our love of outer space," Beth said.
Then, Dash will travel back across the country to Washington, D.C., in September to work with Stefanie Reiser of Align Development on a project to create affordable housing models through participatory development.
"The broader goal of this project is to open a truly inclusive dialogue around re-development in a neighborhood with a rich tradition of community, but which has struggled economically in recent years," Reiser said. "Through this conversation, we hope to achieve a participatory process to shape and inform the type of redevelopment that occurs, and the cultural and economic mix that comes into the community."
Reiser is squarely in the Courtney & Beth Fan Club.
"(They) represent the best of the best in terms of professionals I have hired to help achieve a vision around a development project," she said. "Through thoughtful, intelligent and careful research, they are crafting a program that I believe will be revolutionary in the way creative community redevelopment is practiced in DC. I've been blown away by their keen ability to bring together, with precision, the elements that will give us the best shot at success with this project."
As unique as Dash is in almost every way, to accomplish the organization's work, Beth and Courtney have to find time to raise money like any other nonprofit.
Between their track record, their continued creativity and their relationship, investing in Dash continues to be a sound choice for its funding partners.
"Dashboard recognizes that Atlanta's neglected spaces still have so much value," said Lain Shakespeare, Corporate Citizenship Director at MailChimp, a financial supporter of Dash's work. "With each of their projects, Beth and Courtney introduce audiences to tangible, legible possibilities of the past, present, and future—not to mention the work of more than 100 artists, over time. Their work often inspires real estate transformation. But more importantly they inspire a feeling of possibility—one that encourages personal transformation within the context of community and our civic environment."
As Dash continues to grow, more and more community leaders are taking notice and investing in Courtney and Beth in different ways.
"Beth and Courtney are Atlanta's ghostwriters. There are stories about this city that would never come out if it wasn't for their ability to see color on a blank wall," said Rohit Malhotra, founder and Executive Director of the Center for Civic Innovation, where Beth is part of CCI's partnership with the Sara Blakely Foundation to support women-led social enterprises. "Beth and Courtney define what it is to be a civic entrepreneur in a city. They hustle hard and created a living company that represents the best of both of their characters."
And it's their respective character that's on display when you're with them.
Together, their synergy is infectious.
Separate, you feel the presence of the missing half of the duo.
But always, you truly feel the bond between these women.
And you see their brilliance through everything they touch.
The theme with those who know them is rooted in continually being impressed without a shred of surprise.
For them, staying grounded comes through each other.
"I'm crazy about Court and I," Beth said. "We have managed to raise a child together and still be each other's sense of sanity."
Courtney agrees, noting that their friendship is "100 percent" why Dash is strong.
"Some people are meant for each other," Courtney said. "From day one, at 18 years old, we've had a magnetic relationship. It allows us both to be braver in our own lives."
That bravery has allowed them to connect their early vision of supporting artists, discovering artists, and designing spaces to showcase artists to their work today.
Even though they might slightly disagree.
"It's not about (our) vision," Courtney said reflecting on their first showing where 2,000 people showed up to see Mastodon perform around the work of 13 artists at Dash's initial exhibition. "It's about artists. Let's put them in a nontraditional gallery and have a rock show. I think we have an appetite for curiosity, debunking the norms of what art is. We were trying to do what was not expected in every way. Maybe that's just the irreverence of our respective personalities."
---
Jeff Romig covers Atlanta's Civic Gamechangers for Gather Good. He is the founder of Five Points Civic Strategies, a civic impact firm created to cultivate, elect, and advise Atlanta's civic visionaries and gamechangers.